Podcast: Lire dans une autre fenêtre | Télécharger
Today, Pascal Ferrari and his friends, twenty years experience of rock and roll in Marseille, with an interview in my « home studio » and some good songs of his ex-bands : Marquis Moon, Oops and E-Monstre !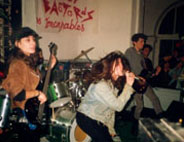 Stephane Abbadie (pic from »Bebe Clandestine »'s album), singer-guitarist from Oops and E-Monstre, Pascal and Sophie playing with the Squaws, posing with Marquis Moon with Jearc and Christophe (pic from Marquis Moon's demo).
You could listen the interview I gave about the podcasting to Radio France International with Raphael Krafft Saturday May 28th; more infos to listen to the show on their website RFI-Medias du Monde.
Téléchargez le fichier en cliquant sur l'icône
Click on the icon to donwload the file.


MP3/ 96 kbps