The Festival des Méditerranées 2010 offered us December 2sd at Nomad Café the first show of a new trio formed with some famous Algerian Egyptian and French musicians from Marseille I mean : Hakim Hamadouche at the vocals and mandoluth with Rachid Taha, former Oriental Fusion with Ahmad Compaoré on the drums and Manu Théron at the vocals and percussion (Lo Cor de la Plana, Gacha Empega).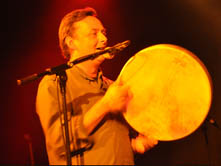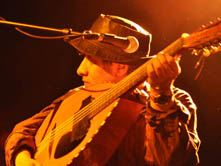 Manu Théron and Hakim Hamadouche (pics from my friend and mate Pirlouiiiit Live In Marseille Concert and Co : his camera was better than mine under this low red-yellow lights show : more HERE !!).
They played a lot of songs from their respective repertoire re-arranged for the trio, re-visiting the occitan, arabo-andalous and oriental traditional melodies with a very contemporary and new eye, or ear…:)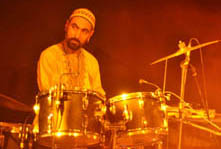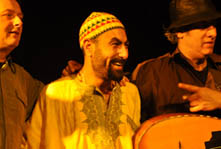 Ahmad Compaoré and the trio saluting the audience at the end of the show (pics : Pirlouiiiit).
We got the nice surprise to have two other great musicians joining the stage for a short improvisation during one song : Sam Karpienia (vocals; former Dupain : a podcast with them HERE recorded in 2006 ) followed a few seconds later by Daniel Gaglione at the mandole (Sam Karpienia band) : I filmed a short video to give you an idea of the ambiance, here below !!
Meltingpod Connections :
Hakim got the pleasure to have one of his songs released on Tricky's (former Massiv Attack) new album 2010 « Mixed Race », here below :