Laughing Clowns are performing the next days of January 2010 in Australia (21/22th Melbourne, 25th Brisbane, 26th Sydney) with Dirty Three but in the waiting to get some live pics I would like to share with you today a friendly message I got a few weeks ago from an Australian journalist : Adrian Cunningham, who was at a show at The Paris Theatre in Sydney in November 1980 with Laughing Clowns sharing the bill with The Birthday Party (later Nick Cave and The Bad Seeds) and Go-Betweens !!!
Adrian sent me a few live pics he took during that show as well as a very interesting report about that creative family of Australian musicians : an obvious interesting report when you will read such a sentence in his text : « the Clowns were my favourites – and before them the Saints, so Ed is number one living national treasure »…!!!
I invited you (with his agreement) to read now his whole message to me :
« Hi Annie, Your enthusiasm is truly infectious. Yes, the photos (while pretty bad from a technical quality point of view) are pretty interesting historically. The Paris Theatre concert in Sydney is now legendary and I am pretty sure that there was no one else there with a camera that night. Sadly, these four photos are the only ones I took.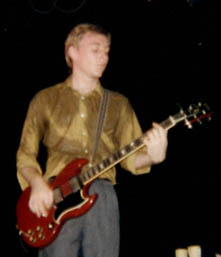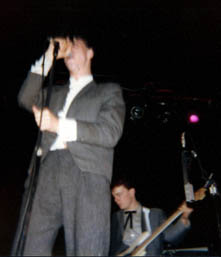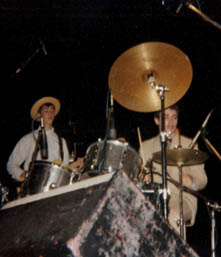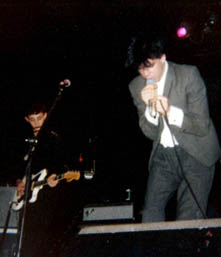 Ed Kuepper – Laughing Clowns; Nick Cave and Tracey Pew (now deceased) – Birthday Party; Ben Wallace-Crabbe (bass – now deceased) and Jeffrey (drums – sporting a very fetching pencil moustache!) – Laughing Clowns; Rowland S Howard (deceased December 30th 2009) and Nick Cave – Birthday Party – Paris Theater November 1980
That concert at The Paris Theatre was the best gig I ever saw and was the Clowns' last gig as a 'big band' with Bob, Dan, Ben and Peter Doyle on trumpet. They were playing with the Birthday Party (their first gig back in Sydney after moving to England) and the Go-Betweens (their first gig in Sydney after moving down from Brisbane). The Go-Betweens were nervous as all get out – I recall Lindy Morrison looking like she wanted to hide behind the curtains at the back of the stage. The Theatre was only half full – unbelievable for such a lineup – I had got there hours early to ensure my ticket and had crept in through the stage door to listen to the soundchecks without anyone noticing. The Birthday Party and the Clowns really respected each other and wanted to impress each other, so both bands soared into the stratoshpere that night… Continuer la lecture de Laughing Clowns Live shows with Dirty Three in January 2010 and with The Birthday Party in November 1980 : a nice family story !! →