Podcast: Lire dans une autre fenêtre | Télécharger
To listen to the interview with Ed Kuepper (mp3 : 35 minutes)
click on the icon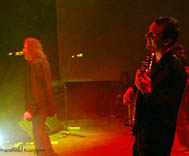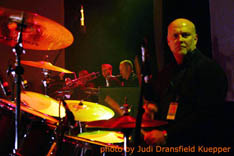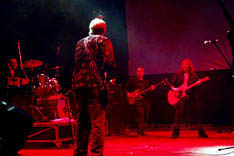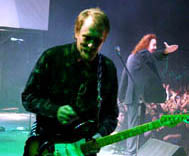 Chris Bailey and Caspar Wijnberg, Ivor Hay and the horn section, The original Saints with Caspar, Ed Kuepper and Chris Bailey…the both school friends together on stage again (pic Judi Dransfield Kuepper).
The Original Saints played their unique reunion show at the Pig City Queensland Music festival for Bastille Day after a 30 years separation and Meltingpod emotionally was with them in Australia !!
The Saints founders Chris Bailey (vocals), Ed Kuepper (guitar) and Ivor Hay (drums) added to their original line-up Caspar Wijnberg The current Saints' bass guitarist and a three piece horn section to give a concert like everybody would have dreamed it after their third and ultime last album Prehistoric Sound in 78…
I was in contact with Ed Kuepper for two months and I lived virtually the preparation of the show; he knew as I was disappointed not to be there like a lot of fans too so he sent me two files recorded during the live show with the agreement to play some short extracts : a DVD could be released around the end of the year and he made me the pleasure to give me a spontaneous interview a few days after the show !!
I hope you will appreciate this delicate atention.
Meltingpod Connections (Update August 2 sd)
More infos in French on Musiciens.biz about this podcast with Ed Kuepper and the Saints and a cool review on Sincever a French music webmagazine : Thanks a lot for your support Ben !