Here the Part 2 of the interview with Ed Kuepper about his projects 2010 and a spontaneous chat I recorded with Chris Bailey just a week before his flight to Australia to join Ed for a duo tour where they will peform together some old songs from their solo albums and hopefully after 30 years they will co-write some new material !!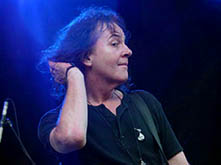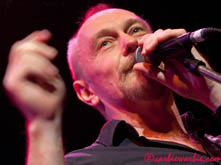 Chris Bailey Live in 2008 (pic Karena Hoyer); Ed Kuepper Live in Melbourne in 2009 (pic : Carbie Warbie)
I started the podcast with « Closer (but disguised) » a song from Ed's new released Live DVD recorded during the Honey Steel's Gold's Australian tour with his solo band The Kowalski Collective in 2008; for info his new Live DVD with Laughing Clowns recorded at Tivoli in Brisbane in 2009 is available now too, both are wonderful !! You can directly order them at www.princemelonrecords.com !!
Then I played 2 songs from Ed's and Chris' respective solos albums.
From Ed : « How Would you Plead » (Frontierland in 96) and « Sleepy Head » (Sirene Machine in 93), both on the compilation « The Magic Mile ».
From Chris : « Edgar Allan Poe » (Demons in 91) and « Queen of The Hour » (Encore in 96).
I finished with a song co-written by Chris and Ed during The Saints' first era : « Messin' with The Kid » but performed differently solo by Ed « Messin' Part 2 » Live in Mebourne in 2001 (Prince Melon Bootlegs Series Volume 2).
Happy May 1st to everybody, hoping that day will bring luck to Ed's and Chris new duo !!