Podcast: Lire dans une autre fenêtre | Télécharger
I met Mick Harvey (ex-Birthday Party, ex-Nick Cave and the Bad Seeds, PJ Harvey's band) a few kilometers from Nimes France October 5th 2012 at the Hacienda during a kind of private party proposed by the Tontons Flingueurs a bunch of friends who are passionated people and music lovers. Thank to everyone for this warmhearted and very beautiful night !!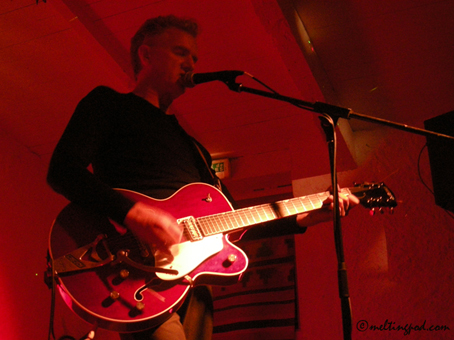 Mick Harvey at the Hacienda in Nimes France Oct 5th 2012
Just after the dinner we went both outside with Mick, sat down at a table under a tree and I recorded our very relaxed conversation about his new solo album (recorded in 2010, released in 2011 and effectively promoted in 2012 after he finished his world tour with PJ Harvey) « Sketches from The Book of The Dead«  and the probable songwriting of his future solo album…A dog invited himself to the talk and added a special note to this very strange night in an old farm lost in the country, far away from everything …it's a kind of atmospheric podcast I propose to you this time illustrated by ones of Mick's beautiful songs : I started with « Bethelridge » (Robbie Fulks) from his covers' album « One Man's treasure » (2005), then 3 excerpts of the songs from his new solo album : « The Ballad of Jay Givens, To Each his Own and A Place called Passion » then an excerpt of « The Colour of the Earth » a song he sang in duet with PJ Harvey in her last album « Let Egland Shake » and I finished with one of the new songs « Two Paintings ».
A short videoclip to share with you a bit of that unique experience with a very talentuous and so famous artist playing directly on the floor without his band, just a microphone, a guitar and some recording tapes…How not to feel each other very privileged and and completly charmed…