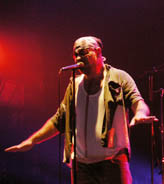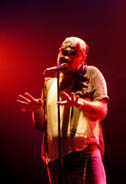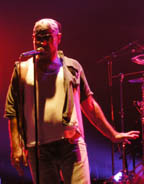 Bernie Bonvoisin from TRUST singing Your final act : « (I wish I had been there) I wouldn't have left you…I would have kept you warm…this man was my friend…he was called Bon Scott ! »
A lot of people surely thought the same thing than Bernie since that day of February 19th 1980 where Bon Scott died alone abandoned unconscious in a car during a very freezing night in London, far away from home.
I know it gave the energy to my friend Buzz Bidstrup to organize as artistic director this big event the Aussie Rockers Saluting Bon Scott at Fremantle (where Bon is burried) reuniting a lot of Bon's friends and fans for a concert last year and raising the money to erect a statue to Bon there. In a few days February 24th they will unveil the statue and will give a second show around « him » ! More details about the line-up HERE !
A new interview will be recorded with Buzz…soon !
I specially dedicate these pics taken at the Trust's show at Istres last December to Arnaud « Bon Scott Rawpower » (Bon Scott Ultimate Fan from North of France…:) who devoted a big part of his time to honor Bon's memory and share his passion for AC/DC with Ben in this fantastic website : Back in Black and their new webzine Can't stop AC/DC.
Meltingpod Connections :
Happy to read other French people in the TRUST FORUM thought to Bon today. A link for you with Buzz's last interview in 2007 about the show at Fremantle and his personal memories with Bon !! and to the others Australian rock stars' interviews (AC/DC, The Angels, Rose Tattoo, Status Quo…) recorded during the show (in English sorry…:)