I spent that nice day trying to save in urgency my numerous and heavy audio and video archives and transfering them to different external hard drives and DVDs hoping it will give more energy and oxygen to my computer which shows very worrying signs of weakness these last days and didn't work correctly. So no time and no possibility for a very creative post to celebrate that 7th anniversary but with luck maybe my cleaning will help and I will be able to do something better in a not too distant future !!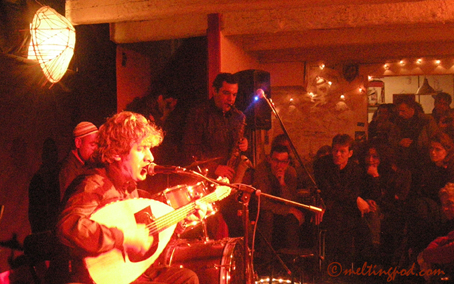 My good friends from Oriental Fusion (Hakim Hamadouche vocals and mandoluth, Ahmad Compaoré drums and Edmond Hosdikian sax) reforming the band after a 10 years break at La Meson in Marseille February 18th 2012 : a videoclip from that great night soon !
Anyway I couldn't miss to point that day despite the technical difficulties because I love too much the number 7 and funnily I share for a few years now this anniversary March 1st with Texas Terri who told me in her last live interview she decided to move that day from Los Angeles to Berlin (a big change in her life and carreer) and Ed Kuepper who chose also that day to launch his blog for his own label Prince Melon Records. Btw : If you live in Australia you can see Ed in Melbourne and Adelaïde where he is currently touring with Mark Dawson…:)
The International Women Day March 8th my podcast Meltingpod will be 7 years old, hoping I could publish some new songs you never heard before…:) and by a lucky coincidence Ed Kuepper chose also that day to release his new studio album « Second Winter »..so stay connected !!!