Podcast: Lire dans une autre fenêtre | Télécharger
Click on the icon to listen to the podcast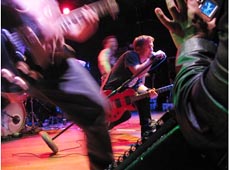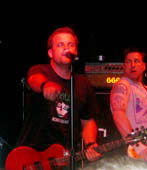 Frank on stage with the Streetwalkin' Cheetahs in 2005 (ph : Todd Westover at the Knitting Factory-Hollywood) and in June 2006 at Las Vegas.
Frank Meyer, singer, guitarist and leader from two rock bands : the Streetwalkin' Cheetahs (I saw in Marseille in 2002) and Sweet Justice based in Los Angeles is also music producer with Messiaz, rock journalist, co-writer of « On the road with The Ramones« , film-maker, Video Game Theater's creator, one of the coolest rocker of this planet and… my guest today !!! During his work at the TV channel G4 he did a lot of very funny interviews with porn Stars promoting the Man Show which inspired my own show : at least I can ask him personally THE Question !!! Enjoy this first episode : THE WOMAN SHOW N°1 ! (the N°0 as test was recorded with Billy Hopeless last January).
I play two songs of the Streetwalkin' Cheetahs' last album Gainsville : « When God and the Devil agree » and « December in a day ». At the end of the show I play a Troggs's cover song recorded in one shot by the Cheetahs in 1995 featuring Wayne Kramer (a great performance !!) : « I want you !! »
In the part 2 you will have the whole Gainsville album 's lyrics' story, song after song… a hard and nice human story in the band during their US tour.
For the new listeners you can listen to the first poscast with Frank in October 2005 « Right to rock » and watch his great video on my first Meltingvideopod.