A very nice suprise today coming from Australia : The Angels introduce Meltingpod and my interviews with them directly on their homepage and give me the first place on their biography page !!! Champagne is cold ! Come quick !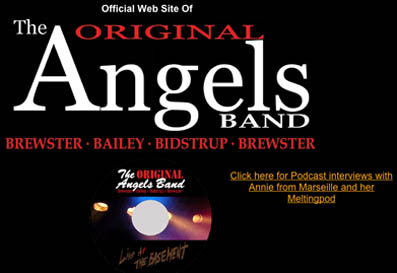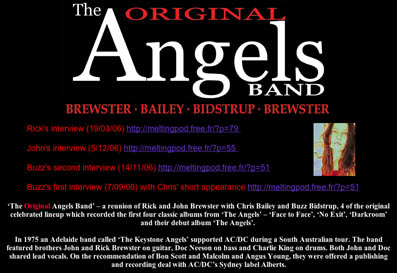 Update August 17th : I'm back home !
Some little mistakes ran in the links, here it's OK now :
03/19/06 : Rick's interview
12/05/05 : John's interview
11/14/05 : Buzz's second interview
09/07/05 : Buzz's first interview with Chris' short appearance
Some nice contributions from the Angels to my podcast :
03/08/06 : They sang the song « Marseille » on the phone for my Podcast First anniversary !!
07/05/05 : The Angels sent me a pic wearing the Marseilles 'shirt I mailed to Buzz !!
03/29/05 : John's e-mailed me the story about Marseilles' lyrics
03/20/05 : My first true podcast called Take me away to Marseille and Buzz's first e-mail and appearance on my blog…:)
Meltingpod Connections :
For the Angels' fans, good links from others Angels' fans :
in France, my Angels' French Connection with Christophe and the Angels from Down Under + Hamster and his blog Out of the Blue,
in San Francisco, my friend Michael Butler with his Rock and Roll Geek Show who did two interviews last year with Rick Brewster and Doc Neeson.