Podcast: Lire dans une autre fenêtre | Télécharger
Winston McAnuff invited me to his last concert in Marseille at « le Moulin« , promoting a new album Paris Rockin' with JAVA, a band from Paris.
In this podcast I propose to you an extract of the interview I did with him last July at the Eurockeennes festival the first time we met at breakfast in an hotel at Belfort, an interview I did just before the show backstage in Marseille, an interview after the show and a lot of nice songs recorded live that hot night with a frenzied crowd; the last song « Wandering drummer messenger » is a studio version from Paris Rockin' : thanks to Makasound!
Click on the icon to listen to the podcast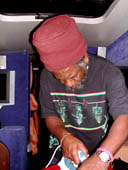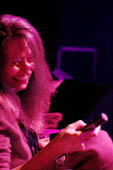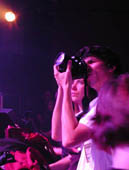 the other side of the picture : Winston ironing his clothes in the tour-bus before the show as a sign of respect for his audience, Annie recording the concert in front of the stage (pic from Pirlouiiiit) and shooting Pirlouiiiit who was shooting Winston !! No break !
Meltingpod Connections : MELTINGTALKS my other podcast with interviews about society and politics, women, music…was ONE YEAR OLD December 1st ! a interesting podcast in a gay club from Marseille to launch the second year…:) and Happy Birthday to everybody being Sagittarius !