Podcast: Lire dans une autre fenêtre | Télécharger
Click on the icon to listen to or download the podcast (mp3 : 25 mn)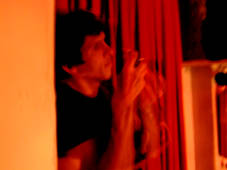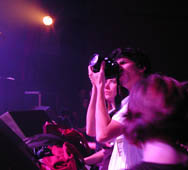 Pirlouiiiit waiting for a pic like a cat a mouse…then ready to shoot !!
A new kind of podcast today, associated to a photos' exhibition, where Meltingpod and her crazy mix crossed Pirlouiiiit the photographer from LiveIn Marseille-Concertandco through a retrospective from the live shows played in Marseille's area in 2006.
The idea is to watch a photos'exhibition in a real or virtual gallery listening to the podcasts (music or talk about it) and increase your pleasure !!
The 50 pictures' exhibition from Pirlouiiiit will start February 7th at Lollipop Music Store-Marseille (until March 3rd); For those of you who don't live in the town, we will give the link to the virtual gallery from February 8th…keep in touch ! Just to have an idea, look at here :
You will have at least two possibilities : a photocast on MELTINGTALKS where Pirlouiiiit comments with me (in French) these 50 pics ! A cool conversation where we share our passion for pictures and music !
Another one here where I played only music with 12 extracts from the local bands present in this exhibition who gave me the first ones and very quickly their agreements for that (a lot of rockers already known on Meltingpod but you will hear new sounds too) :
Oaï Star : Le destructeur d'horodateurs – LO : Again
Dupain : United Bras cass̩s РThe Hatepinks : Fallen in love with a Jpeg File
Strings of Consciousness : In between РScott Taylor : Sur ma mule (a song from David Lafore 5 T̻tes)
Ich bin dead : My fiction – D'Aqui Dub : O ma Brunetta !
Cowboys from outerspace : the push in – Cap'tain Carnasse : Pietro
Neurotic Swingers : Wake up your mind-Merakhaazan : Huge Indigo Snails
PS : i'm sorry if some bands on the pics regret not to be in the podcast (25 mn already is long) my door stays opened for a next time if they want !