After a long silence with the podcasts (exactly one year today, strange coincidence !!) I'm back with you again and to honor this return I propose to you a great live interview or more exactly a very friendly conversation with Rob Younger (ex Radio Birman) I recorded this Summer before his show at La Machine à  Coudre in Marseille when he was touring Europe with his famous Australian punk rock band The New Christs !!!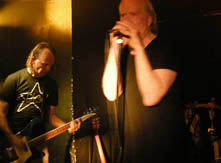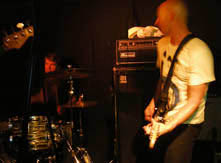 Rob Younger and Brent Williams on the left, Dave Ketley and Paul Larson (from the Celibate Rifles, specially here for the tour 2011 replacing Stuart Wilson) on the right…the New Christs at La Machine à  Coudre !!
The New Christs delivered us a fantastic performance, sincere, warm-hearted, professional and wild like the great talentuous musicians and generous rockers they are…they can play on big festivals' stages like they can play for a small venue with the same powerful energy…I can even say they are more impressing in a small venue…Wow that superbe wall of guitars in front of the stage with Brent, Jim and Dave !! Rob adapted his show to the place he had and still was more fascinating, the air was saturated of music, the drummer was a hero (and all of us by the way) with that highly hot temperature of Summer : in fact we all shared a bath of sounds in a complete pleasure close to the trance…:)
Here below a short videoclip I filmed with my small compact camera to try to give you a little idea…Enjoy!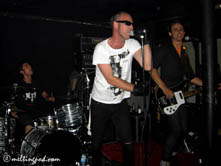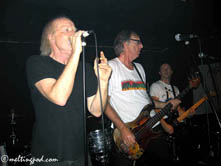 The Irritones opening the show on the left; Rob Younger, Jim Dickson (both ex-Radio Birman) and Dave Ketley on the right
The French punk band from Marseille Irritones opened the show for their famous Australian guests : only happiness !! (videoclip of their show below, a short live recording in the podcast)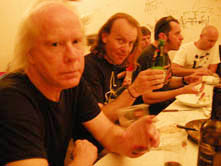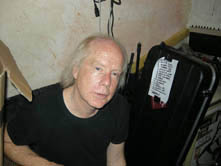 The New Christs and Irritones at the dinner : a good way for the Australians to test the French cooking, cheese and wines thank to the great Relax and Co's organization !! On the right, Rob Younger backstage with me in the interview's room ! It was small but we had a lot of fun talking very relaxed before the show about music, projects, life, politics, flavors you can capture in Marseille by night…:) I hope you will like it ! I illustrated that interview with some excerpts of their new live album recorded in Sydney in May 2011 : « On top of me, Coming apart, Daddy's calling » and of their last studio album Gloria : « Animalisation »…
If you haven't enough here, you can listen or re-listen to THAT OTHER PODCAST with a live interview with Rob and the band and many live recordings of the show at Le Poste à  Galène in Marseille I have published in May 2009 !