Podcast: Lire dans une autre fenêtre | Télécharger
Michael Butler and his band from San Francisco American Heartbreak (the new album is realeased !!), Adam Becvare from Chicago and the LustKillers (a new song not still released and an interview in tour after The Black Halos' concert in Nice), Manny Montana from Belgium with the Ones (an old song) who is with TeenageHeadMusic a passionated European tour manager for rockers ONLY !!! : I met Mike and Adam in spring 2001 in Marseille and a few months later the three together with Manny at Wild at Heart-Berlin : I'm happy to have those guys as friends and introduce to you now their new and old songs. Without forgetting to mention Mike with his podcast « the Rock and Roll Geek Show » is the male companion of Meltingpod !!!
Click on the icon to listen to the podcast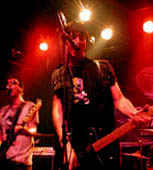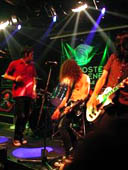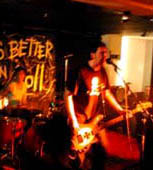 Adam with the Lords of the New Church, Mike with American Heartbreak and Manny with the Ones (pics I took in Marseille; click to enlarge).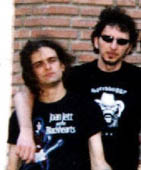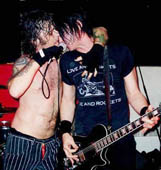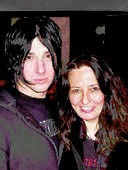 Mike and Manny in tour, Billy and Adam (pic S.Smith), Adam and me in Nice
Meltingpod Connections :
Sandra Smith was the photographer who took our pic with Billy in Nice ! She found me through myspace : funny coincidence, she was at the Lords of the New Church's show in Marseille in 2003 and Adam posted her pics beside mine on his site. BTW : If you want to check how was the Black Halos' success among the hottest girls from Europe, have a look on Billy's myspace site : in fact the situation was not as hopeless as he said !