Podcast: Lire dans une autre fenêtre | Télécharger
The Black Halos, a band from Vancouver-Canada (every Meltingpod faithful listeners know for months !!) was playing for the first time in France last Sunday in Nice at the Volume (well managed by la Source 001 : concerts every days !!) : I recorded a part of the show and I did at least a live interview with Billy Hopeless the singer, I only knew through phone conversations and e-mails until now; we talked this time about the lyrics' stories which often are a good way to better know a musician ! it was a lot of fun to see them on stage with my « old » friend Adam Becvare their guitarist now. I did an interview with Adam too but I will give it in another show. Most of the songs you will hear come from their last album « Alive without control ». Run and check their European tour dates on Teenageheadmusic.com : THAT'S GOOD PUNK ROCK !
Click on the icon to listen to the podcast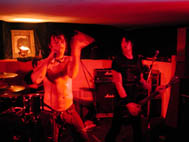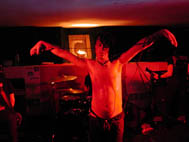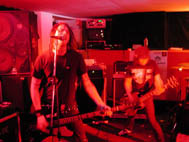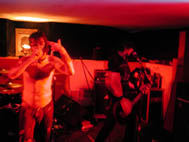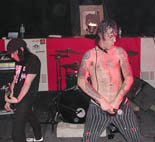 Billy and Adam, Denyss and Jay on the left side, then Billy doing
every second a different show and a strip (he did it!), Billy and me !
Meltingpod Connections :
I'm at least accepted in the very closed Teenageheadmusic's friends club with my new logo…:) what do you think about it ? Hey, I found today thanks to Technorati and Indymedia that Meltingpod was linked by « Oh, my Pod ! » and a French Anarchist site « En dehors » : they seem to have appreciated my April 1st Podcast with the revolutionary songs!