Podcast: Lire dans une autre fenêtre | Télécharger
To listen to the interview with Buzz Bidstrup (short version : 20 minutes)
click on the icon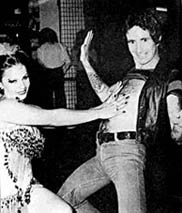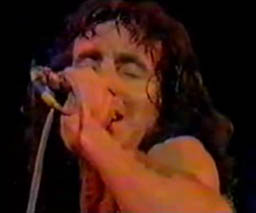 Caress my chest ! (ph : ?)…singing and smiling ! (pic from video)
Today is AC/DC's singer Bon Scott's death anniversary and I propose to you my last interview with Buzz Bidstrup (the Angels' drummer) in a shorter and lighter version (20 mn instead 35 mn for those of you who have never enough time to listen to my long podcasts !); Buzz is organizing this week at Fremante near Perth-Western Australia where Bon Scott is buried a big event with concerts (from 23th to 25th) to raise money and erect a statue for Bon. AC/DC's ex-members, famous Australian rock bands, young bands, friends and fans are expected to celebrate Bon's music and life.
Buzz speaks about that event's organization and shares some memories about his personal relation with Bon.
BTW : I prefer personally the long version…but you have the choice now !
Meltingpod Connections : Update February 21th
Yeah ! Meltingpod has a good place today in the Word Podcast Forum's homepage as « Featured Podcast » !! Thanks to the team !
Update February 26th : Meltingpod in home page this week on PODEMUS a French podcasts website : thanks to promote a French podcaster who speaks in English !!…:)