Mick Harvey was in Paris the first week of February 2010 and proposed to me a Live meeting there to record the long interview I was planning with him just through a long distance phone call between Melbourne-Australia (where Mick lives) and Marseille : I obviously found it was a better idea !!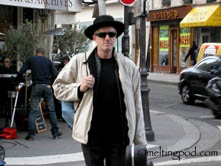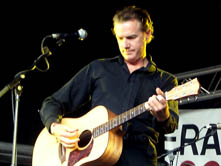 Mick Harvey in Paris 2010; Mick at the Primavera Sound 06 (pic Niccaela)
Mick Harvey was Nick Cave's long time friend and partner in music, they met at school in the early 70's and founded their first band The Boys Next Door then called The Birthday Party; after breaking that band Nick Cave asked Mick Harvey in 83 to form a new band called : Nick Cave and The Bad Seeds. As you maybe know, Mick Harvey left that band last year for some reasons he will explain later. I will publish that interview in 3 parts.
In this first part we talked about Mick Harvey's projects for 2010, his next solo albums, his work doing music for films (alone of with different bands), producing the music of other artists he plays with (like PJ Harvey), covering songs from French musicians like Mano Negra and Serge Gainsbourg.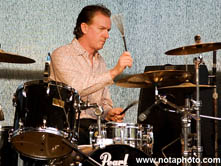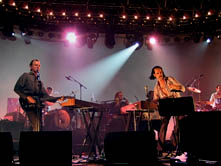 Mick playing drums with Rowland S Howard at ATP 2009 (pic Notaphoto); Mick Harvey with Nick cave and the Bad Seeds in 2008 (pic Zruda).
I illustrated that interview with some short excerpts of his music :
I started with « Come on Spring » a cover song from Dave Faulkner, Frew, McCarthy and Kim Salmon (in Mick's solo album « One Man's Treasure), then « The Carny » and « From Her to Eternity » (with Nick Cave and The Bad Seeds for Wim Wenders' film : Wings of Desire) « The Adversary » (with Crime and City Solution for Wim Wenders' film : Until the end of the world) and End Titles (Mick's solo project for the film Vaterland), a Live version of « Dress » from PJ Harvey where he accompagned her at the bass with Rob Ellis on the drums, « Out of Time Man » from Mano Negra (in Mick's solo album : Two of Diamonds), « The Ballad of Melody Nelson » and « Requiem » from Serge Gainsbourg (in one of Mick's both tribute albums to Gainsbourg : Pink Elephants; for info the other one is called « Intoxicated Man »). I added a personal tribute to Rowland S Howard » (Mick's great friend and partner in music who died last December) with playing a short excerpt of my favorite song « Marry Me (Lie! Lie!) » from one of his bands These Immortal Souls.
I hope you will appreciate that new podcast !!
The second part is coming soon !