Podcast: Lire dans une autre fenêtre | Télécharger
Rock bands from Marseille and some surprises with the Saints and the Angels : a great Meltingpod today…so we start with :
Gasolheads : Bad situation-Lying shooter position (the band is dead but gave the birth to the Hatepinks and Neurotic Swingers).
Neurotic Swingers : Burn to Floor-What's your definition of underground ?
Les Balayeurs du désert : Hello Ola-Jules Verne Impact (music played during the Royal de Luxe' show : La visite du sultan des Indes sur son éléphant à  voyager dans le temps).
The Saints' drummer Peter Wilkinson stole my mic and interviewed me !
The Saints : Never Enough-Imperious Delirium (new French tour right now)
Les Balayeurs again with Morale : a great Meltingpod song !
After Billy Hopeless (The Black Halos) and Frank Meyer (the Streetwalkin'Cheetahs), Buzz Bisdtrup (the Angels) answers to the WOMAN SHOW !!! Who will be the next one on the grill : maybe a French podcaster ?
Gasolheads again with Nobody knows…a good song for the end !
Update November 12th : WONDERFUL links to ROYAL DE LUXE LAST SHOW HERE and HERE + many SAINTS LIVE SHOWS from 77 to 2005 : Enjoy Nights in Venice Live At Paddington Townhall in 77 : a GREAT MOMENT…strangely I have the feeling it's this rough version I loved and played in my podcast with Lars in Nov.05…and the Saints will finish their actual tour in Venice…
Click on the icon to listen to the podcast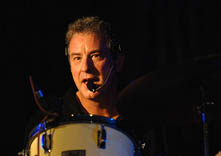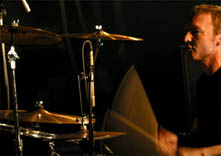 Great and cool drummers : Buzz from the Angels and Peter from The Saints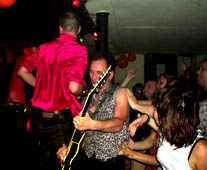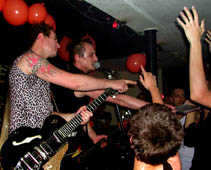 Gasolheads and Neurotic Swingers at La machine in Marseille (05/05).
Update November 6th : Speaking about drummers the Rodriguez from Austria on stage at la Machine a coudre last Saturday night : no live podcast I only danced without moderation ! rock is primal and sensual…:)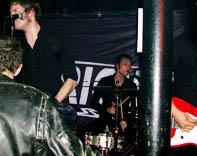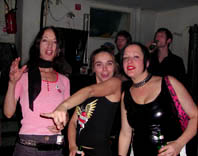 The boys sweating on stage and the girls having fun…Relax and Co !