In this third and last part of the interview Mick Harvey talked with me very relaxed about the kind of music he likes and played with The Birthday Party and Nick Cave and The Bad Seeds…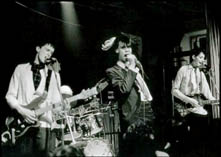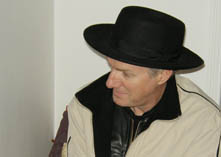 The Birthday Party Live with Mick Harvey, Nick Cave, Rowland S Howard; Mick Harvey in Paris 2010 posing for me and joking
…mentioning a lot of musicians who impressed him a lot at 14 like Lou Reed, The Velvet Underground, David Bowie, Alice Cooper, Iggy Pop and The Stooges…the friends/bands in Australia who had and still have like him with The Birthday Party and The Bad Seeds the same quest to create their own sound : Go-Betweens, Laughing Clowns, Ed Kuepper…with a large and wild walk around the New Wave and the freedom of expression…Hoping you will like it !
I illustrated the interview with many music excerpts from The Birthday Party : Release the Bats, Sonny's burning, Fears of Gun, Nick Cave and The Bad Seeds : From Her to Eternity, All Tomorrow Parties, The Mercy Seat, Deanna, Midnight Man (live recorded from a video on youtube with Ed Kuepper in 2009), in the background David Bowie and Iggy Pop and The Stooges, at the end Pop Crimes (from Rowland S Howard's last album with Mick Harvey on the drums).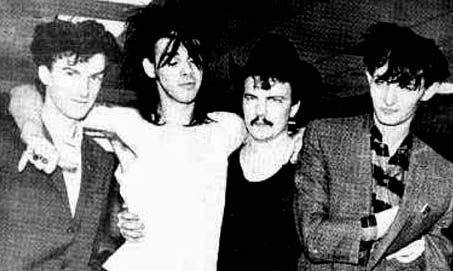 The Birthday Party : Mick Harvey, Nick Cave, Tracey Pew and Rowland S Howard in the 80's…the fine team !
By the way 5 years ago March 8th 2005 I published my first podcast !!!
5 YEARS !!! Happy Birthday Meltingpod !!
Meltingpod Connections :
Thank to all of you who appreciated these 3 podcasts with Mick Harvey and wrote it on Nick Cave Fixes and on Nick Cave and The Bad Seeds Forum.