Podcast: Lire dans une autre fenêtre | Télécharger
I have at least a new little mic, the same as before but it's mine now !
The show about Europe Day comes late but we don't care. In this new podcast, you will listen to the three bands who came to sing for Europe Day May 9th 2000 in Marseille; it was a little festival produced and managed by Eurocircle which was called : Europe Off !
I invite you for a long travel around the world : from Marseille to Melbourne (Australia), Berlin to San Francisco via Bahia (Brazil) with Silvio Ricarti, Sah'ra (Algeria-Kabylie) with Hakim Hammadouche and Montreal (Quebec) with the Magic reality of Balthazar. We don't need passports !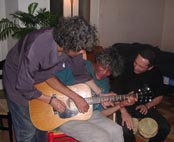 Hakim, Silvio and Riad playing music at home, Mike playing guitar for me on the internet from his Rock and Roll Geek show studio in San Francisco, and a very nice big studio mic lent by my new sponsor the rock singer guitarist Bea Paradis from Sub Rosa.
Téléchargez le fichier en cliquant sur l'icône
Click on the icon to donwload the file.


MP3/ 96 kbps