Podcast: Lire dans une autre fenêtre | Télécharger
A new podcast interview with ED KUEPPER to come back again with Meltingpod and to start this May first day : what's better with Spring coming ?
Great news : Ed Kuepper and his drummer Jeffrey Wegener are Nick Cave and the Bad Seeds' special guests for a fantastic European tour around almost all the capitals, starting for Ed at Oslo May 16th to finish June 9th at…Paris !!!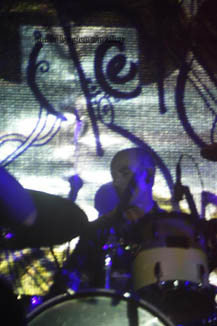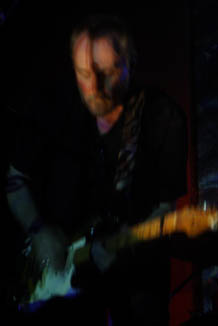 Jeffrey Wegener and Ed Kuepper at Brisbane in 2008
(pics Glen 0'Malley; projections from Judi Dransfield-Kuepper).
As always Ed is very precise and sincere to answer to my questions and he develops his « romantic » concept about his live performances…Warning ! you could become addict and book all of his shows !
I played « My best interest at heart », « When I first came to this land » and « Flypaper »…A friend's advice if you want to know more about Ed, order his both compilations (49 songs exactly each time !!) : « The Magic Mile » (Ed Kuepper) or « Cruel but Fair » (the Laughing Clowns).
Ed sent me unreleased versions from « the Laughing Clowns » and « Eternally yours » to give you an idea of his duo guitar-vocals and drums with Jeffrey…a big pleasure in perspective if you can catch a show near your town :
May 16 2008 8:00P Spektrum,Oslo Oslo
May 17 2008 8:00P Annexe Stockholm Stockholms län
May 19 2008 8:00P KB Halle Copenhagen
May 21 2008 8:00P Tempodrom Berlin -SOLD OUT !!!-
May 22 2008 8:00P Tempodrom Berlin
May 24 2008 8:00P Sparta Hall Prague
May 25 2008 8:00P Gasometer Wien
May 26 2008 8:00P Petofi Csarnok Budapest
May 28 2008 8:00P Alcatraz Milan
May 30 2008 8:00P Villa Franca tbc Verona
May 31 2008 8:00P Vila Fidelia tbc Perugia
Jun 1 2008 8:00P Tendastrisce tbc Rome
Jun 3 2008 8:00P IN Music Festival Zagreb
Jun 4 2008 8:00P Arena Belgrade
Jun 6 2008 8:00P Moni Lazariston Salonika
Jun 7 2008 8:00P Lycabetus Theatre Athens
Jun 9 2008 8:00P Olympia Paris
BTW : I didn't completly recover ( I still was too bad to see Nick Cave' show at Marseille April 26h !!) but I hope to be able to meet Ed Kuepper somewhere in Europe…:)
If this website is still alive (my server Free cut my account because of a violent spammers' attack during my sickness) it's thanks to some of my friends who answered present and saved my database, updated my WordPress version like Markus from Berlin, the French podcasters like Luc Saint-Elie from Paris (the first French male podcaster who helped me the first French female podcaster to start her blog in 2005 !!) and Alain Thomas from Bordeaux (Palmipode).
Thanks to you three and thanks to all my listeners who regularly (sometimes daily !!) sent me messages of love during these bad last two months : it was very very precious to avoid to give up !!
But working on a computer stays very painful for my neck and arm and I think I will publish just a few podcasts this year with the most important interviews for me or « quick and easy made » with music only…so stay connected !