One of my favorite rock band from Marseille Conger! Conger! gave a show at The Cafe of the Espace Julien November 20th 2010 and tested that night a lot of their new songs before going to Toulouse to record there their new album…in fact this week !!!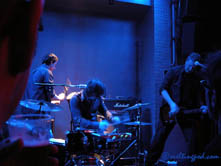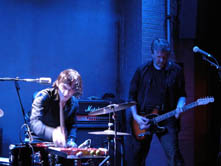 Click to enlarge these pics at Cafe Julien with such a nice light-show !
As always each show is different with Conger! Conger! : the new songs brought a new color it's clear but the performance is always surprising with Patrice De Benedetti the drummer and lead singer (former dancer with Ex-Nihilo and right now with his own dance company beside his creative activities with the band !!) which tries all the time to feel the intuition of the moment : very focused his both mates on stage Pierrot Gon at the guitar and Didier Bautzmann at the bass quietly followed him in each of his fantasies for our greatest pleasure !! (live video below)
BTW = You can find another review and longer Live video HERE on MELTINGPOD from one of their shows at La Machine à Coudre last April !!
On the left : Flying above the stage at Cafe Julien ! On the right : Patrice playing with small bells' bracelets to increase the effect of his drumming !
Can't wait to listen to their new album and talk to you more about it : an interview is scheduled !!
Meltingpod Connections :
When my friend Eric Tessier from Radio Libertaire hosting « Place aux fous musique » in Paris abandoned his backstage pass for the Alice Cooper's show in Marseille that night and joined me at the Conger! Conger! show…:)
The review in French is HERE !!
When my friend Bob Nebe writer of « That Striped Sunlight Sound » a music webmagazine came from Australia to Marseille and followed me a night of September at Enthropy to a Conger! Conger! show…:)
The review in English is HERE !!
Thank to you both to help me to spread the good music around the world!!