Conger!Conger! and 25, both French bands from Marseille made my night last Friday at La Machine à Coudre a small venue with a BIG rock and roll heart : the musicians, the owners and the faithful public (really all ages mixed in a very nice, smiling and noisy meltingpot) have a special way to turn each night like an unforgettable memory !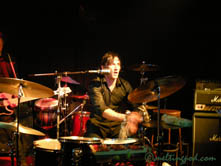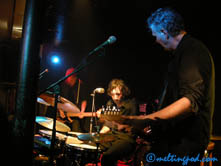 Patrice DeBenedetti on the drums, Conger!Conger! the trio in fusion !
That night Conger!Conger! opened the show with a creative and rock experimental music : Patrice DeBenedettti (Tarif Réduit, Enema, dancer with one of my favorite dance companies Ex-Nihilo) on the drums and at the vocals, Pierrot Gon at the guitar and Didier Bautzmann at the bass guitar…the best for you it's too check the short video clip I filmed during their show below !
I mixed a lot of my best moments considering I used the option »video » of my small compact camera !! So be aware the sound Live was much better !!
Then the punk band « 25 » raised the temperature with their crazy and energetic trio including Lee Zeirjick at the guitar and vocals, El Vice at the bass guitar, Joss Pain on the drums (pics and video below).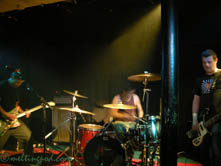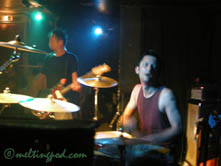 The trio in action; Joss shot from the smokers lounge a very convenient place to watch the band's performance from a different angle…:)
I couldn't really filmed in front of the stage because of the usual pogo and I escaped behind jumping on a chair…though there I filmed with one hand, the other one was busy to quietly stop a young excited punk whose hands walked too much on my legs and tried to put my nylons down…ambience:)
The end of the clip was filmed at
Baraki
a nice bar to play a baby-foot's last game on the way home : always surprising and friendly people there !!
To finish a tribute to some of the most faithful contributors to the rock scene in Marseille and who make it unique !!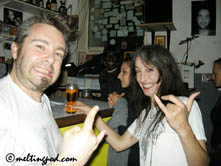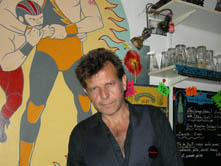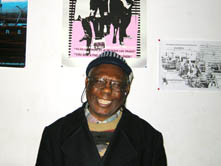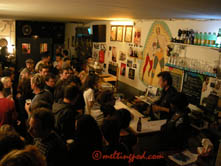 Mystic Pinguin the famous rock reviewer from Concertandco LiveInMarseille and Miss Joelle who books rock shows with SurfinCow, J2P the irreplaceable DJ at the beers, The famous Machine's rock star and the public!! I couldn't shot Claire the beautiful owner too busy to welcome the people at the door and a lot of other interesting people obvioulsy!
Meltingpod Connections :
Thank to The Mystic Puinguin who wrote an enthusiastic review about that show in French illustrated with my pics and videos…a good work in team : check it on LiveInMarseille!!