In this second part of the interview with Ed Kuepper we started when The Saints arrived in London in 77 in the punk mouvement's explosion. Ed explains how their musical evolution was bad accepted in that context, by their fans, the medias and at the end by their record company EMI : the song « Know your product » signed the debut of the hostilities because they dared to add a horn section to the band. They released their second album Eternally yours in a progressive misunderstanding until they split the band in 78 after finishing the mix of their third album Prehistoric Sounds.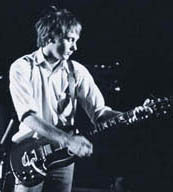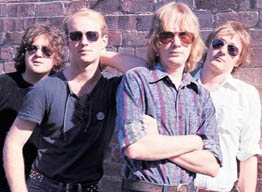 Ed Kuepper in 77 in London (pic from Ed's myspace); The Saints in 77 : Chris, Ivor, Kym and Ed (pic from the vine.com.au) Who sang : nice boys don't play rock and roll ?…:)
I play a lot of songs from these both albums to illustrate Ed's talk, hoping you will appreciate at least the Saints for what they were at that time : a great and innovative band paying the high price for their freedom and independance in the music industry.
short memento about that period to fix some dates (thanks to Ed !!) :
1970 : Chris and Ed's first meeting at school in Brisbane
1973 : Chris, Ed and Ivor's first show at the school party; a few months later they formed the band « Kid Galahad and the Eternals »
1974 : Chris, Ed, Ivor and Kym formed The Saints
1976 : I'm Stranded (the single) recorded in june Brisbane released in sept 76 on Fatal records; (the LP) recorded in october 76 Brisbane and released in feb 77 by EMI/Harvest/Sire
1977 : The Saints' arrival in London; This perfect day [single] recorded London may 77 [the 2 songs on the b-side were recorded in feb 77 Sydney) One, two, three, four (EP) recorded London june 77; Algy Ward replaced Kym Bradshaw at the bass in June; Eternally yours (LP) : recorded in oct 77 released feb 78 Harvest
1978 : Prehistoric Sounds (LP) : recorded in april 78; the Saints split after the mix !! the album was released in aug/sept 78 in the UK but only in 79 in Australia.
No wonder when Ed formed the Laughing Clowns in 79 he created in 1980 his own label Prince Melon Records. In 2008 he re-launched his label to produce his solo albums and this month he reformed the Clowns for the ATP festival with new shows announced next May in Sydney !!
Chris Bailey on his side re-activated The Saints alone with a new line-up changing many times with the years. For a while now he performed with Caspar Wijnberg at the bass and Peter Wilkinson on the drums, the line-up I met two times for two live interviews in 2005 and I can't forget the first one with Chris which was my very first « interview » for Meltingpod in April 2005 in Marseille !!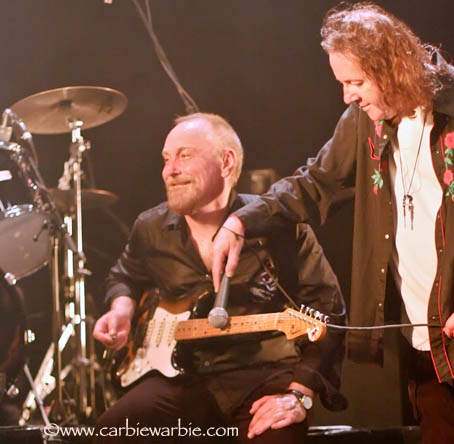 Ed Kuepper and Chris Bailey having fun on stage together again with the Saints' original line-up 30 years later in Melbourne 10 days ago (pics Carbie Warbie!!) : when I told you 2009 will be an erotic year…:)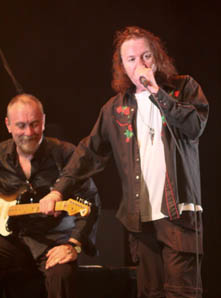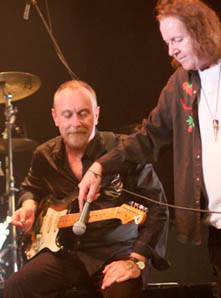 Carbie sent me both pics more in exclusive (because he loves Meltingpod I guess) telling me it was a moment of the show where Chris said to the crowd a lot of kind words about Ed until helping him to play guitar noticing Ed was exhausted after the first encore…sweet !